Photo credit: Roadshow356 on Flickr
December photo contests might have to be my favorite… I love encouraging people to include their pets in the holidays (this coming from someone who always buys her pets gifts and/or stockings as well AND lets them open the presents, too!) and I love seeing the different ways people think to include their animals in their holiday traditions and celebrations.
This December's theme is PARROTS OPENING PRESENTS! 
Our sponsor this month is the wonderful FeatherObsession on Etsy who will be donating 3 pieces so that there can be 3 winners… of which… YOU, THE VOTERS, will be choosing! The more likes your photo gets, the more likely you WIN! So spread the word and link to your picture so friends and family can help you obtain more likes. The top 3 photos with the most likes from our facebook fans win this contest and walk away with gorgeous cruelty-free feather jewelry from the FeatherObsession store.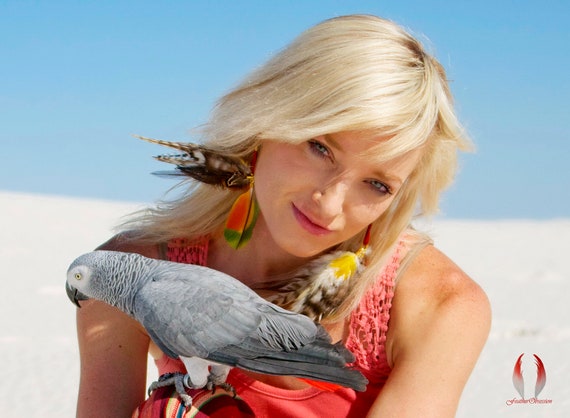 Want to take a look at the prizes? Jo-Wen the owner and founder of FeatherObsession has put all the available prizes here in one spot for the winners to choose from. The first winner will be the first to select which one they want, and so on. The picture above of me and Cressi is one of the prizes (the earrings pictured, that is!)
Now, onto the rules:
Keep your parrot safe! Read this blog post on how to do so during the holidays. Please don't show your bird in an unsafe situation.
If you don't know how to submit your photo to us, it's simple, I promise! Simply post it to our timeline on facebook. Here's how.
You must have permission to use the photo or have taken the picture you submit yourself.
The photo must contain a live bird (our contests aren't JUST for parrots, toucans and other birds count too if you have them!)
In the picture your bird must be IN THE ACT OF OPENING A PRESENT. Not just pictured with a cute present, but trying to open it.
Please keep it as holiday themed as possible, we want to see Christmas/holiday presents in the pictures not paper bags or random crumbled up newspaper. This isn't foraging, this is presents! Wrapped presents.
Photo submissions are only taken through facebook and will not be accepted through email, customer service, personal IM-ing or any other method. Simply post your photo directly to our timeline and wait for it to be added into the contest album. Once added, people will be able to vote on which pictures they like the best so make sure to get your likes on the photo in our album and not on the photo you post to our wall.
All pictures will be collected and posted at the SAME TIME into our contest album on facebook. Photos must be submitted by December 24th at 8AM Pacific Standard Time. No late photos will be counted. Photos will then be published shortly after and voting will conclude December 31st. Lots of days to obtain likes and comments! The winners will be announced shortly thereafter.
If you are a winner, please e-mail us at info@birdtricks.com so we can get you your prize!
Facebook comments: